MKBHD & CREW IN NIAGARA — Rolling Out The TOCNYS Red Carpet
"One modest, thousand-mile experiment rustled up key issues that have concerned EV charging advocates in NY State for years."
It started when this Twitter post informally appeared and almost went under the radar . . . or Tesla Vision, these days: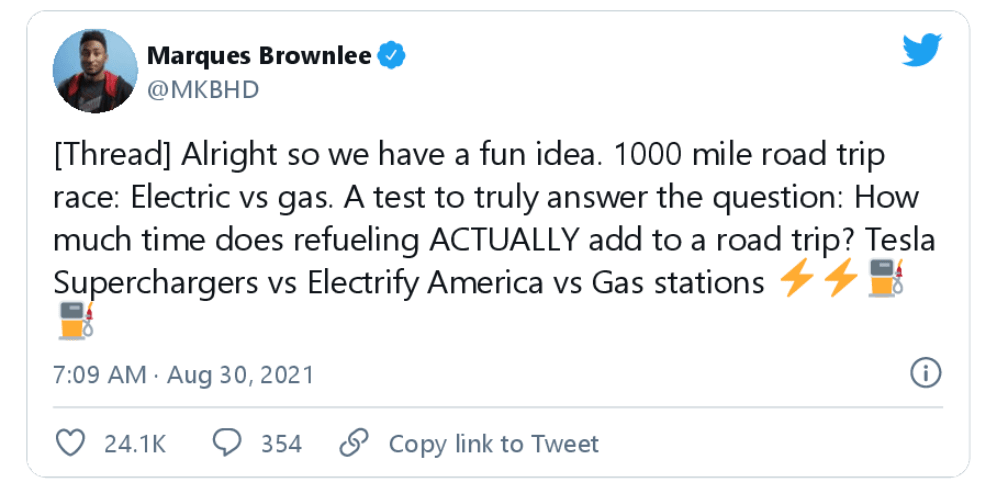 This showed up just two days after the most ambitious TOCNYS event of the season, Tesla Henrietta: Official Grand Opening. Tweeted first thing on a Monday, no less.
Retweets soon started to pique interest and spill some of the road trip's details.
It would be a Model S Plaid with 349 miles of range versus a Ford Mustang Mach-E California Route 1 Edition with 305 miles of range. Both EVs would be competing against an Audi Q5 fossil car (the control) with 462 miles of range.
Photo @MKBHD
Team Tesla:
Marques Brownlee @MKBHD
Hayato Huseman @hayatohuseman
Team Mach-E:
Brandon Havard @BrandonJHavard
David ImeI @DurvidImel
Team Gasolina:
Andrew Manganelli @AndyManganelli
Adam Lukas @AdamLukas17
Tim McMahon @timmcmahonn
Their starting point would be a Wawa gas station with Superchargers and Electrify America charging, just outside of NYC in New Jersey. First checkpoint: Lake Placid, with the Olympic sign serving as the photo to grab.
That would be followed by our own TOCNYS Niagara Frontier region's inspiration, Niagara Falls. The photo assignment there would be none other than the Nikola Tesla statue on Goat Island.
Rounding out the Empire State, they would visit the clock tower on the Cornell University campus. Through Pennsylvania, they would hit Scranton (home to the TV series The Office). Completing the competition would be a return to the Tri-State home base.
It was posted that "This [journey] will take 2 days and be very (kinda) scientific and very fun."
Photo @MKBHD
Just a second.
Let's rewind and make sure we all grasp who Marques Brownlee, creator of "MKBHD," is.
A 2015 alumnus of the Stevens Institute of Technology, Brownlee earned its Young Alumni Achievement Award for making a substantial impact on the tech media scene. Imagine billions of YouTube views, millions of Twitter followers, and instant recognition of his trademark reviews covering the latest and greatest devices.
Wait, did I mention that he is also the one who interviewed "possibly the busiest man alive" (Elon Musk) within the Fremont factory?
Photo @MKBHD
All true. In 2018, when Model 3 was making or breaking Tesla's future, Brownlee sat down and effected this YouTube milestone that lives on, even hinting at the still-TBA $25,000 Tesla.
Back to the present. Remember, it's Monday morning, August 30, with the Tweet about the road trip still relatively fresh. Yours Truly decides to reach out and inform the team that TOCNYS members would be prone to help, whenever the trip happens.
The event link in the p.s. was to our upcoming Niagara Falls meetup on the second Saturday of September. What if the trip and meetup overlapped?! Not even remotely knowing the date of the MKBHD "experiment," it was worth a shot.
Wrong!
It would become clear, hours later, that they had already started the trip.
That's right. All three vehicles were well on their way around the Empire State—counterclockwise, as this earlier photo tweeted from the Plaid reveals—en route to Albany/Montreal.
Great. Without a formal website or other real-time map, knowing when they would hit the Tesla statue proved elusive at best. For me, being about half an hour from The Falls, even trickier.
MKBHD was Tweeting only here and there. The rest of the crew had been posting a trickle of other details via their account, @TheStudio. You could say it was less than prophetic to foist this, though:
Why? Because it turned out that the Mach-E was immobile by noon.
This tweet says it all:
Maybe no one predicted the scope of what was about to happen. One modest, thousand-mile experiment rustled up key issues that have concerned EV charging advocates in NY State for years. (Shout-out to WNYer Abdur-Rahman Morgan, a champion of the EV charging cause, once going as far as offering officials his own non-Tesla BEV to attempt cross-state charging.)
It should be no surprise, then, that this rustling sparked a Twitter storm for the record books.
Right away, @pluginsites lashed out at @NYPAenergy with "What is going on with your promise to #EV drivers that they will be able to charge when crossing New York?" . . . plus hitting right where it counts by dredging up this not-even-one-year-old claim:
The strategy seemed to work.
NYPA's Twitter account soon apologized for the technical problem with the remote station at Schroon Lake, adding that charging there would be free until they resolved the remaining issues.
TOCNYS friend @mdvolt chimed in by questioning whether a Mach-E had ever charged there, if other vehicles were able to use the charging station's same CCS plug, and if a software update might be needed for the station.
But wait, there's more.
You know something is up when NYPA Lead Engineer John Markowitz even steps into the thread to offer help via direct message.
Meantime, @pluginsites added that the Schroon Lake charging station was working two weeks ago for their own vehicle, cementing the impact of today's fiasco with the quip "This lack of dependability is catastrophic for #EV adoption."
That, ladies and gentlemen, highlights how vital the MKBHD/TheStudio challenge is today.
They embarked on the trip specifically without planning for charging or gas—a legit, real-world attempt. Yet, the not-a-Tesla EV is already borked before reaching the first landmark.
How did the Mach-E team resolve the out-of-order charging station issue?
Correct, navigate in the opposite direction since the sole charging option was yonder.
If there is any consolation in all of this, the marooned team did report that the estimated remaining range of the Mach-E tends to be more accurate than the Plaid's. Well, if anything, the 'Stang underestimates.
Brownlee knows there is typically a hidden reserve of juice below the Tesla zero-miles-remaining mark. Only getting to that point seems to happen less predictably than in the Ford. Go figure.
Anyway, by now it is late afternoon and it still isn't clear what time the TOCNYS Niagara Frontier welcome should happen at a.) a Supercharger, b.) Niagara Falls, or c.) all of the above. The clues from the MKBHD tweets are barely clues; the ETA is looking more like a total guess.
Then, this rolls in:
Doing the math, with the Plaid's range and the distance to Goat Island from that Supercharger, some back-of-the-napkin scribbles placed their arrival just shy of 8 p.m. . . . then again, it is a Plaid!
At Goat Island, I plugged into a ChargePoint at 7:46 p.m., turned around, and BOOM— there they are, rolling in on cue. Like a scene out of a movie. I went and IDed myself as the TOCNYS Niagara Frontier regional organizer; they smiled, parked, and we had a brief chance to chat.
Photo @jpw1116
With the Audi already there (and the Mach-E around three hours behind), I gave them directions to the peak spot for nabbing some remaining light photos of the Horseshoe Falls.
We all met up at the Nikola Tesla statue, as seen in the hero photo, then took in the thrill of both the American and Luna Falls at the brink. Imagine this chance to visit in optimal late-summer weather.
Photo @hayatohuseman
The group wrapped up this Goat Island visit stepping under the arch that was preserved from the original Edward Dean Adams Station Power Plant of the 1890s—the same portal Tesla himself most definitely walked through when it was intact upriver at Port Day.
What do you know, TOCNYS Niagara Frontier Operations Intern James VanSchoonhoven had arrived straight from work at Bocce Club Pizza with a box of it in hand. A kind Buffalo gesture for a starving crew.
Photo @TeslaPlaid
One friendly tourist recognized Brownlee and crew. The only real interloper was a skunk taking a stroll right behind the Teslas. Our cue to say farewell!
On day two, we learned that all three teams stayed the night at Niagara. Everyone kept to the plan and did not charge overnight at any hotel. Unconventional for typical EV trips? Sure, but the pact was to plug in or fuel up only while en route, on par with the control vehicle that requires ye olde gas stations.
Full details on both legs of the trip will appear in a future @TheStudio video, but we do know that around noon, the Plaid had charged up in Cheektowaga and was bound for Cornell. They arrived there by 2:45 p.m. (with Mach-E ahead of them, though they all started out together) and then into Scranton by 4:25 p.m.
In contrast, the Mach-E was 42 miles past Scranton and charging for the final stretch at 5:54 p.m.—it turns out that this team began favoring Electrify America stations which provided the most bang for the buck (even if the Ford app didn't always suggest them).
TeamTesla made it back to the starting point by 7:14 p.m., with the Mach-E—on average 1.5 hours behind—made it there a respectable nineteen minutes later. Had all the Mach-E stations been functional EA ones, there is a much better chance the two EVs would have been in sync.
What were some of their takeaways?
Three charging stops per day, none over 46 minutes

The Mach-E's UI tended to be confusing compared to the Plaid's

There are too many charging companies

There are too many broken chargers

Single-plug charging stations are unacceptable
Talk about a productive experiment! Until their final video is ready, check out this Waveform podcast for their take.
UPDATE: View the initial results video "Driving 1000 Miles in 3 Cars: Gas vs Electric!" https://youtu.be/vXzuFprlyrw 
— By John P. Weiksnar, TOCNYS Niagara Frontier regional organizer