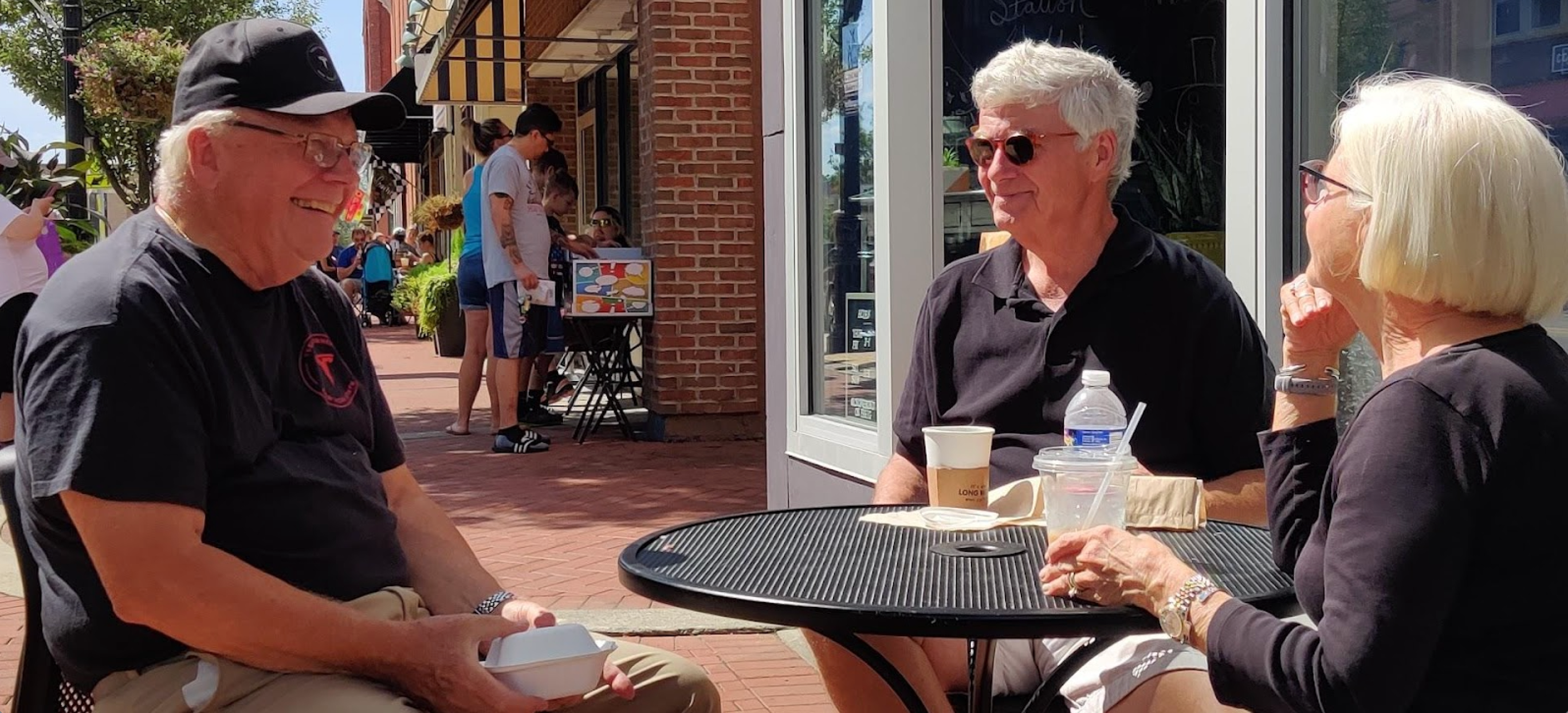 TOCNYS NIAGARA FRONTIER MONTHLY MEETUP: "A TEN"
In the words of our loyal Niagara Frontier owner Tony Brigandi, who happens to hail from the Finger Lakes region, our August meetup was "A TEN."
No, no one was running in slo-mo on a beach, but it was another freak-of-nature sunny day in the middle of a rainy stretch. Somehow our second-Saturday 10 a.m. outdoor meetups are hitting it out of the park this season.
Speaking of 'park,' our members and guests wasted no time exiting their cars to socialize. With folks there from as far away as Mt. Morris, we occupied the Buffalo (Clarence) Supercharger and nearby spots like it was nobody's business.After half an hour, we did something else our members prize about our meetups: we formed a Tesla procession to take us straight to our destination, the historic Village of Lancaster.
Imagine exactly ten Teslas vying for the last of the parking spaces on quaint old West Main Street . . . only most of it is brand-new. Yes, they're restoring the business center of the village via a "Complete Streets" revamp of what was most recently a dead "urban renewal" parking lot.
.                        
So what that our timing was off? That hefty crane was blocking off the new part of the street, busy getting the last few girders up on what will be a mixed-use business/residence. We honed our parking skills (or Autopark) and got ready to patronize some locally owned and operated businesses.
So what that our timing was off again? Our main destination still had its closed sign up. Great. It turns out we were about a minute early, and soon enough the owner of Long Weekend Bake Shop and Cafe let us stampede into this 100% plant-based oasis.
The rest of the meetup, al fresco on sidewalk seating? Pretty much a blur. Our members and guests yakked it up, refreshments in hand, to the extent that it inspired Tony to call it a ten.
We scoped out some future meetups (see notes at end), said a few good-byes, and whoever was left kept living up the village vibe, either testing out each other's Teslas or talking it up in front of other local establishments. 
If you're inspired, feel free to copy this meetup format—decadent baked goods or not, it's something else to "take over" a small village and bring owners together there.
Oh, and we even threw in a bonus hike while charging up in a nearby park. . . .
View and upload images from the event here: https://photos.app.goo.gl/cU7yJyvARQTw1mfk7
By John P. Weiksnar, Niagara Frontier regional organizer
Please join us again soon (all meetups subject to change, so please register when you can):
Saturday, August 28: Tesla Henrietta: Official Grand Opening
Sunday, September 5: TOCNYS Buffalo Region Extracurricular Weekend Summit 
And especially at our most anticipated regular meetup of the year:
Saturday, September 11: TOCNYS Goes to Niagara Falls