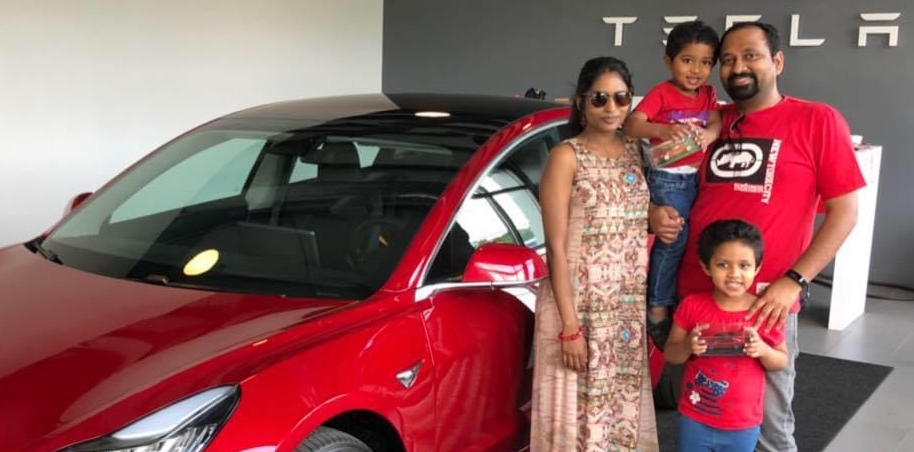 Member Spotlight: Priyan Sarathy, DVTOC Membership Committee Chair
Getting to know our active members
Priyan Sarathy is the Membership Chair for the Delaware Valley Tesla Owners Club and also the Chapter Lead for the Del Val-NJ chapter covering Gloucester, Camden, and Burlington Counties in New Jersey. Priyan has been an avid Tesla follower since the early Roadster days, but never thought he'd be able to afford one until Tesla announced the Model 3 (or E at that time) with a starting price of $35,000. With the federal tax credit and no sales tax in NJ he convinced himself it was just like buying a brand new Honda Accord even though he had never purchased a brand new car before. 
On March 31st, 2016, Priyan took half a day off and stood in line to place his order for the Model 3 sight unseen. Stoked with his decision to pre-order after the reveal, he spent the next two years impatiently waiting for it. When his time to configure came, and it was evident that the only option to get one right away was to be spending $55k for the long range model, he had to convince himself he was willing to splurge another $20k for the vehicle. With a commute of less than 5 miles to work it was really hard for him to justify that decision. Luckily one day while going through his daily morning routine of reading Tesla news online he came across a story about a couple that rented out their Model S and X on a car-sharing app called Turo and how they were making enough to cover the payments and even profit a bit. Turo was also giving incentives to list a Model 3. That got him thinking. He knew being in California the company would have more reach and customer base than NJ, but all he needed was to offset the cost of ownership to cover the $20k increase in price. To test the waters of the service he listed his Acura MDX and stick-shift Mazda on the app and they were both booked for rentals right away for the following weekend and Priyan found himself without a car. That gave him the confidence he needed to purchase his dream car, the Model 3, and list it on Turo.
Later in 2018 he purchased an 8.5 kW solar panel system from Tesla so he could live off free energy from the sun which made him regret even the occasional need to fill up gas. So that led to him trading in the Acura MDX for a Model X which was an even bigger hit on Turo. Eventually he traded the Mazda for a Model S, but still found himself in a situation of not having either of the vehicles available for him to use over a weekend. Now with three electric vehicles his 8.5 kW system wasn't meeting his home's demand for electric power anymore. He sold a set of referral Model X wheels and used the proceeds to purchase a referral Tesla powerwall from someone who didn't need it. While installing the Powerwall he also added another 5 kW solar system to cover the family's increased energy usage which his wife, Shreya documented on her YouTube channel.
When the Model Y came out it was a no-brainer for them to get one to use as a personal family car to use during COVID pandemic shutdowns. The rest of the Teslas continued to be rented out and the rental fees covered the monthly dues for all four cars. Apart from the new Model Y, all the Teslas have over 80k miles and continue to run great despite having over an average of 100 trips on Turo. He's made over 25 Tesla referrals including neighbors, co-workers, family and friends and typically convinces people that they can offset the cost of ownership by renting it out. It sounds appealing to most people, but once they purchase the vehicle it's hard for them to follow through with renting it out, since it is to many a prized possession. His latest addition to his Electric Fleet is a Zero SR motorcycle, that he also plans to rent out on motorcycle ride sharing apps to help continue to spread the delight of electric transportation. Feel free to reach out to Priyan at Priyan@DVTO.club and say hello when you see him at any of the upcoming club events.