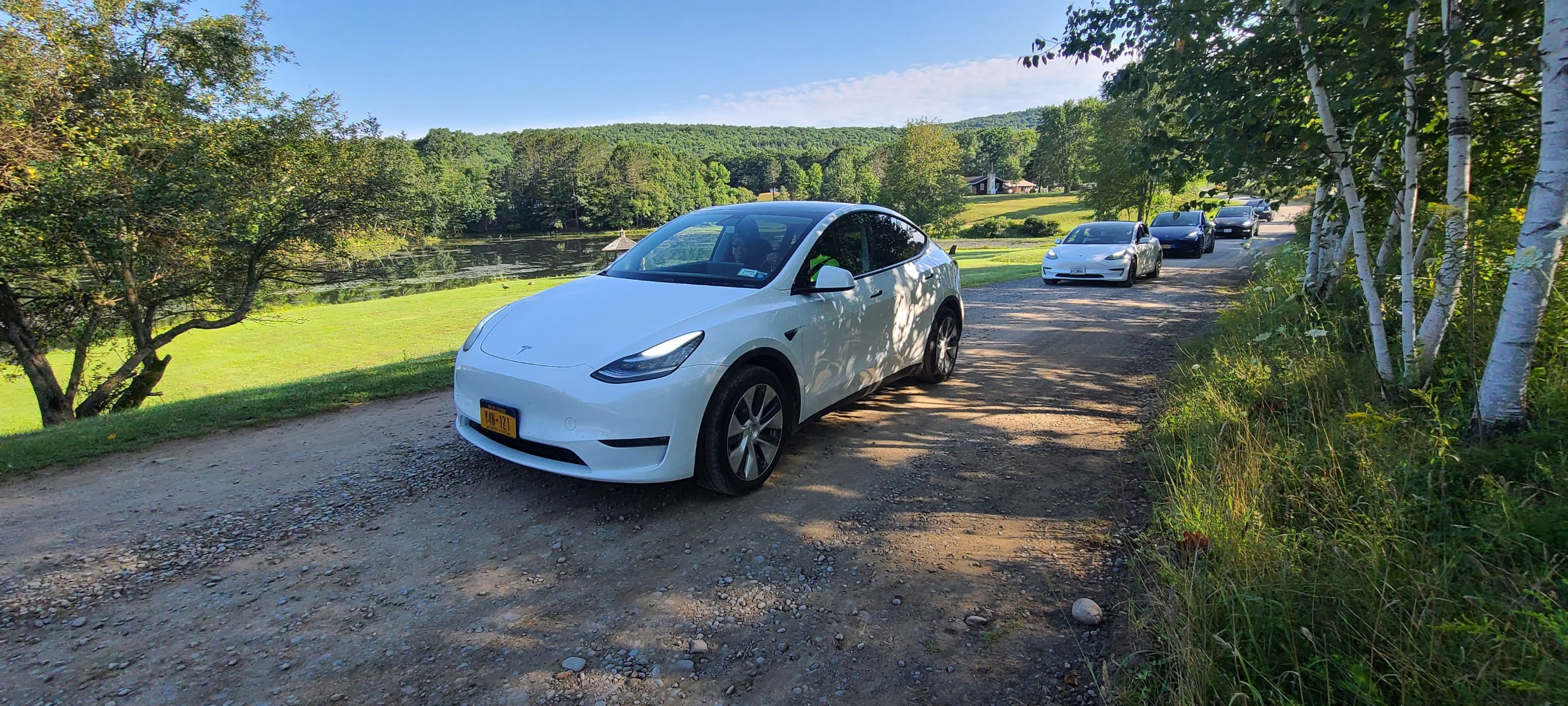 TESLA NEW YORK CAMPING TRIP
This was my first event with the TOCNYS group.
I only found out about the Crazy Acres Camping trip when I joined the Tesla Owners Northeast Facebook group two weeks before the camping trip. When I found out they had a drawing for a Dream Case, well why not sign up, go meet everyone to see if I'd like the group. 
I joined to slack channel for #camp-trip followed the posts and began posting to it as well. While leaving for the trip upstate to the Catskill foothills I posted that traffic was heavy and got a response to my post telling me to "stop lifting it and drive", I was thinking this was a fun group!
Once off the freeway, traveling through small towns the view was beautiful with a nice clear sunny day. 
Driving the backroads, you see so much more and can't miss things, like the entrance to Crazy Acres Campground, I was looking for a street, not a gravel driveway between two wagon wheels. Once we checked in at the camp office, where we were given a list of activities for the next day, we headed to our campsite where we encountered a small hiccup, someone had put a canopy over our site so we couldn't plug in! Well the couple who did it thought it was their daughters' site and she would be coming up the next day, her site was actually the one behind her site and not next to it, so I offered to switch sites and all was well.
We started putting up our tent and it was really windy, while we were doing so, some owners came over and chatted with us, making us feel welcome. Later another owner pulled up to the site next to us, and we lent a hand to him and he hung out with us all night chatting, it was nice.
The sky was so clear you could see all the stars and the Milky Way!
Saturday morning, we decided to wake up early. The camp grounds had clean restrooms with showers, so we showered, then dressed and ate before gathering at the camp office to cruise to the Baseball Hall of Fame in Cooperstown. It was fun passing cars and trucks going the other way seeing the look on their faces (we looked like the Tesla version of a motorcycle gang). After our arrival, we took a walk around and shopped, it was a cute little town.
We headed back to camp to heat up our food for lunch, ate and while my husband napped in the tent, I went down to socialize with the rest of the group at the cookout. I introduced myself to a few others and was treated kindly by everyone I met.
Stephen, the Club Manager, announced there was a drawing and to write your name on a piece of paper and put it in the hat. I was one of the lucky ones that won a sleeping pad from Sleepingo. It's super lightweight and comfortable. Thank you Sleepingo for donating the sleeping pads for the raffle!
Some of us decided to head over to play mini golf not far from the campsite because the campground was having a water war, to save ourselves from getting soaked. We had a blast playing and joking with each other, truly a great time. Afterwards we headed over to Brook's BBQ for some good food and company, then back to camp.
Saturday night was a cold one, got down past 50 degrees, and there were a lot of campers making s'mores gathered around fires. The Model X dance off was fun and other non-Tesla campers gathered around to watch, some kids yelling do it again!
Sunday morning, we broke down camp and got everything packed up early so as to leave with the Tesla caravan heading to Howe Caverns. Everyone in the group was so fun and nice, it was a great time. The cavern was amazing and we got a group photo taken, afterwards some of us gathered at the picnic tables and ate lunch while some headed to Lily Park while the rest headed home.
I was almost sad the weekend had come to an end. I look forward to the next gathering and meeting even more members!
A special thank you to Carson for organizing the trip, Stephen for putting together the raffle prizes, Steve for the group picture, Dan and Yvonne for the laughs, I'll have to remember to fold over the ruff the next time.
Click here for the group Google Photos Album