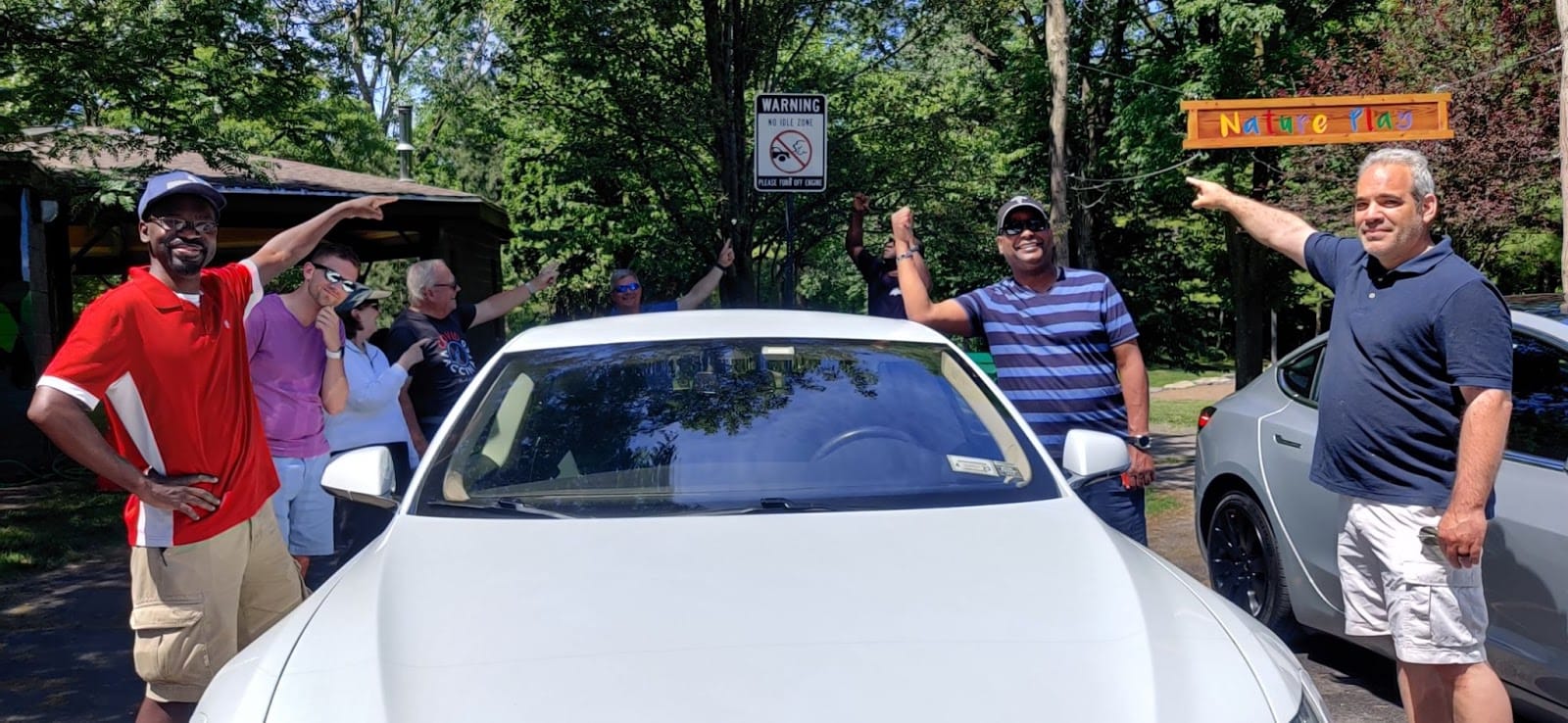 Buffalo Meetup & Group Drive ("Second Saturday at the Supercharger") - Glen Park
WHAT A GREAT DAY
We lucked out in nearly every aspect of this monthly "second Saturday" TOCNYS Niagara Frontier Region meetup that kicked off at 10 a.m. on June 12, 2021. In total, two dozen friendly attendees were on hand.
Another even-month event meant we met at the Buffalo (Clarence) 150kW Supercharger, already brimming with vehicles passing through the area. Just a suggestion, this station does tend to get throttled down to 60 kW or so, and you may want to hit up the 250 kW "Chargetowaga" station if you ever need speed. (Assuming everything's up to snuff there, too!)
THE GATHERING
Members and guests rolled in. New and old, locals and out-of-towners . . . it was a teeming cross-section of our membership, and a sign that the TOCNYS Niagara Frontier region is charged up and doing well.
We had an expected special guest, Mark Czajka, originally from WNY but now settled in Maryland where he is active in his own regional club. Here with his locally-based mother Nancy and brother Curtis, Mark was generous in handing out a hefty stack of tongue-in-cheek posters that he designed and fabricated.
We also welcomed a somewhat unusual variant of a vehicle. No, not quite a Ford Focus electric like our friend Abdur-Rahman Morgan has brought along in years past. A 1932 Ford, owned by Tom Ryan, guest of Ludicrous Members Richard and Joan Clements. We look forward to seeing more of his presence down the line. Tom happens to hold a Cybertruck reservation!
Also joining us was a young couple from central NY, in town for a wedding. They were stunned to see us all at the Supercharger and made the only logical choice: to join in on the casual conversations.
Our Finger Lakes region loyalists Tony and Fran Brigandi drove in, as did our local Model X owner / Supporter-level Member Samantha Bonano, along with two guests. And that's just the beginning of the roster of who was there, taking in the sunshine. Special thanks to Nancy Czajka for this group photo:
THE GROUP DRIVE
We lived up to our word and left sometime before 11, first lining up in the usual eelish caravan through the bank lot. A bonus this time was some video acquisition on the spot by a Tesla staffer who happened to be passing through town. He mentioned he would be forwarding the footage to his manager . . . a supportive gesture to serve up some inspiration to other groups, new and old, around the circuit.
We prefer to take the back route of the shopping center to avoid the stop-and-go outside all of the storefronts. Rumor has it that the AAA Service Center we always pass will be replacing its broken GE WattStation Level 2 EVSE with something new soon. Past that, it's always a kick to have a used car lot right at the plaza exit we use to get onto the main thoroughfare safely, giving the patrons there a little glimpse of what could be. And mildly funny to see their reaction to an EV convoy staring back at them!
Of course, the lead car with Yours Truly, followed by Tony & Fran, were the only two from the batch to make it through the first major intersection before the signal changed. Fair enough; we prefer to play it safe out there and maintain decent speed so that other drivers don't get any wrong cues from us. We all made it through the short trip to the Village of Williamsville, only a couple of miles west via Main Street.
DESTINATION DELIGHT
Be aware that everyone at the Supercharger got a little speech ahead of time. It went something like, "THERE PROBABLY WON'T BE ANY PARKING!!!"
Background: I scoped out the intended parking lot, across from the quaint little oasis we know as Glen Park, a few weeks earlier. A seasoned local looked at me oddly when I explained that we were planning on bringing in "about a dozen" cars at 11 a.m on a Saturday. . . . Apparently those mornings are so peak that you need to arrive no later than 8:30 or 9 to get a space. If you're lucky.
We were. I believe there was one spot left over, among the two dozen there, by the time all of us silently occupied the lot. Talk about a coup, and Plaid / Techy Key Member Udeme Ukutt happened to intercept us at a corner nearby just beforehand. Jackpot. As though someone had been orchestrating everything.
No kidding, we chose this lot for a reason besides proximity to the park!
Talk about attracting a great, well-rounded group of TOCNYS members, plus a friendly new guest! (Also, we aren't exactly sure what Udeme is doing there with his mouth, but I am writing this on his birthday so let's assume he was prepping for cake!)
Also notable is the new mural going up on the structure in this portion of the park. It is by local artist Ali Price, who recently unveiled some advanced work on a wall in a new Niagara Falls, NY coworking space.
Some folks from the initial gathering had shuffled off, but others decided to take a stroll to check out the waterfall where Ellicott Creek crests the Onandaga Escarpment. We heard reports later on that our new, nearby local business destination, Overwinter Coffee, was a hit. One of our most recent members, Jessica Massey, already visited it earlier in her sleek new Model Y. Note that she also supplies OC with her custom, inventive, at times sassy enamel pins. Helpful fodder for the next time you would like to support a fellow member with her creative sideline business.
We ended up shooting the bull so much in that parking lot that one more version of our crew hoofed it up to the same place to cool down with some coffee beverages. Notably among them, new member Leo P. and his guest Arnold—both of whom have a wild penchant for EVs and charging, and are definitely welcome to return to our monthly meetups. I want to declare right now, thanks to them and all of our other members, this was a reference meetup—if all had the vitality of this one, we'd be set for good.
By the 1 p.m. hour it was down to just these two gents along with Plaid Member Anthony Bartolotta, Jeff Gardner, Michael Hooker and Yours Truly (who blabbed on and on about his return that morning from the monumental Tesla Plaid Delivery Event in Fremont). More thanks to Overwinter for the great, friendly service and acrobatics that a worker performed to get this shot from within their front window.
And one more round of thanks to all who attended, keeping these monthly meetings at the forefront of TOCNYS membership. Free or paid members, we welcome all.
Be sure to stay tuned for info on our July 10 meeting! It stands to check in at a whole new level of novel and exciting, with a concept we haven't tried so far: a way to put your own Tesla on the map, as it were, with a photo hunt across the Greater Buffalo area.
Just the right stuff to get the word out about our Club, worldwide.
 Niagara Frontier Regional Organizer
Do—I mean, TOCNYS—to the Moon!
Complete Google Photos album: https://photos.app.goo.gl/acmWhPRNj5ghkJ4h8