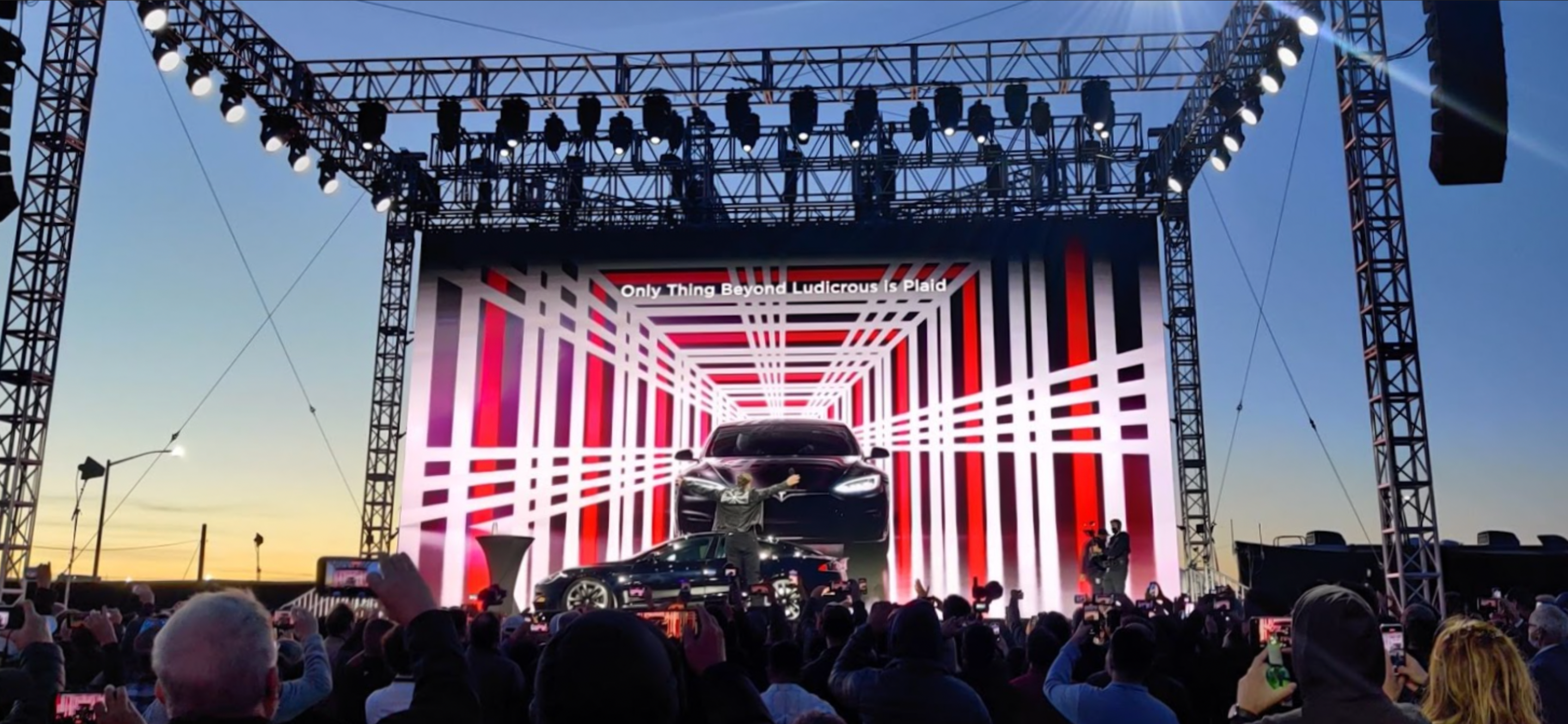 PROTIP: Never ignore your inbox when a subject line starts with "You're Invited"
TL;DR, READ YOUR MAIL
It's a good thing I didn't ignore it. Because the whole thing really read "You're Invited: Tesla Plaid Delivery Event" :-O
The message rolled in at 10:24 p.m. on June 8, just under 48 hours away from the event in Fremont. It wasn't until after midnight that I got around to looking at it carefully, noticing it was the real deal and not just something forwarded or spam.
I was only about 6.9% confident I would be able to swing a cross-country trip on short notice—none of the booking sites offered a combo of flights and lodging near Fremont in time for the event on the evening of the 10th, and then home in time for the local TOCNYS monthly meetup, mid-morning on the 12th. It was not looking good at all.
On a whim, I tried Southwest and uncovered a vacation special that combined an Oakland R/T with Hilton accommodations. Sold!
DEAL WITH IT
The toughest part of accepting this (besides being at the airport in just over 24 hours—what's not to love about 5:30 a.m. departures?) was having to knife open the box that contained my HyperChange "dad hat" from Galileo Russell's "Initial Hat Offering." Does that mean I wouldn't be keeping it sealed, storing it, or converting it to an NFT? Right. Thanks to the Plaid event, I cracked that mother of all dad hats open and what do you know, it fit great.
What truly goes through your mind the day before a Tesla event? For this guy, it was mainly the anguish of knowing I'd probably end up in an ICE Lyft ride, plus the modest thrill of getting to experience the acceleration of Plaid before most others on the planet . . . and then the amenity of being able to share the story with all sorts of owners and future owners.
GET THERE
Backpack crammed, I made it to Buffalo Niagara International Airport by 4 a.m. (note to self, never count on Google for the opening time of all the coffee vendors at the airport: it's 5, not 4!). TSA didn't even open until 4:20, but PreCheck® would make it the quickest passage ever. A couple of easy flights later and I was touching down in California, just like the good ol' days, pre-COVID, for events like the 2019 Global Leadership Summit for Tesla Owners Clubs.
GOT THERE
California trails New York State in the hygiene department. Well, at least they are still saddled with a rigorous mask mandate in effect. I got stuck in a rumbling airport shuttle van, then an overheating gas guzzler for Lyft, but knew I'd be able to swing some Tesla rides next. And I did, though first I grabbed lunch in Fremont, and met a delightful pup and his owner along the way. Fortuitous? . . . You tell me!
I then arrived on foot at the Supercharger where Tesla Owners Silicon Valley and other clubs were supposed to be hanging out.
No dice. There were only two Model 3s at the station. I feared that I was already too late, or had a disastrous misunderstanding. Enter Tesla ride #1: a fellow owner who also had the destination mixed up and shuttled me directly across the busy street to the real location of the pre-party.
Sure enough, the leaders of Tesla Owners Silicon Valley were anchored among fellow members from all around the state and country—too many names to list—along with the Tesla staffer who oversees all our owners clubs worldwide, William Masterson. Be sure to check out the first three and a half minutes of this video from Tesla Owners South Florida President Rafael "TesLatino" Santoni for some accurate coverage of the gathering . . . that sported a downright bingo card of Tesla-related culture and rarities:
CYBERTRUCK (well, a scale model)

A YouTube FSD Beta tester, or three

The exotic brown paint option from 2013

Audaciously bright wraps on a pair of Model Ys

And, maybe there was even a Not-a-Flamethrower
Toss in a drone for good measure, then mall security showing up to see what the crowd was all about, and you have an idea of what club life in the epicenter of Tesla ownership is like.
Tesla ride #2 was courtesy of Joe Jefferson, the affable president and founder of Tesla Owners San Joaquin Valley (in the rare 2013 Model S, no less!). He was generous enough to drive Yours Truly and YouTube sensation Warren Redlich to yet another pre-party across the way again.
This time it was at a Mexican restaurant where we three were joined by Twitter personalities Franks&Beans and CodingMark for an impromptu meeting of the minds. It's a guarantee of Tesla ownership that when you spend a couple of hours with strangers, talking shop, it might as well become a podcast. We covered everything from Starbase to Starbucks (or was it Tim Hortons?) and had no trouble agreeing that the event would start late: Elon's jet hadn't even touched down in San Jose yet.
THE BIG SHOW
The entrance had a sea of Tesla vehicles, several security points, and a queue of a couple of hundred attendees at the gate. It's a good thing I saved the e-mail message; they needed to see the original, plus proof of vaccination that I copied and laminated the day before. Whew! Otherwise they had a rapid test station set up on the way into the South Lot event space.
On entry you saw a quartet of Model S design iterations on display, including the original red "Alpha" I had headed up to Toronto to photograph in 2011—when it was easy to be the sole customer inside their old Front Street showroom at the time. Tonight was another story, with scores of folks starting to file in and check out the stage, the twenty-five pre-delivery Plaid Model S specimens, and the displays of their innards set up along the midway, but most still under wrap.
Then there was the test track. The feeling of utter thrill was palpable and the lit-up "launch tunnel" kept strobing. No rides were happening yet, leaving the space and even bleacher seating open to any attendees who cared to check it out (up to the track fence, of course). Later on, they would announce which set of attendees would be admitted for rides, according to the letter stamped on your badge. Smart idea, since it helped avert most of the stampede to the track area right after the show.
And what a show it was. The sun had just about set, the breeze had settled down a bit, and folks flocked to the "mosh pit" and all around the main stage area (part of which contained a Plaid Model S in red, with absolutely no VIP rope around it, primed for nose prints galore on the impeccable paint finish).
Franz von Holzhausen took the stage with a rather pronounced sledgehammer in hand, and riled up the audience with a smooth, memorized script. Sure, breaking some . . . records. No doubt.
IT HAPPENED SO FAST
The live drone feed of Elon behind the wheel of his Plaid Model S plastered the giant screen/backdrop, and, before we knew it, the beast/car was vaulting itself up an incline and onto the stage proper. I studied enough physics in school to realize those brakes had deployed—for a moment, we very well could have witnessed a catastrophe—but it eased to a halt right on target. Of course, Elon erupted from the cabin all boisterous, flaunting his Plaid-backed leather jacket and then proving the durability of the frameless doors by backhanding the driver's side shut via the window glass. Who knew?
Mic in hand, he jumped right into the presentation you've all seen by now: major new power, efficiency and design boosts. Essentially an engineering renaissance. They projected screen after screen of details and stats, along with some live feeds of the motor internals and game playing capabilities from only a stone's throw behind the audio crew and camera operators. Sure, details on the "new" battery pack were sparse, and we never really did hear about a Plaid Model X (though we did see a Model X refresh on site and another parked casually among all the attendee cars in the gravel lot).
The mood of the audience and camera crews seemed elevated at times though slightly restrained overall, probably since the crowd just wasn't very massive. They were serving beer and wine all evening but the only Tesla Tequila apparent showed up on the console of each of the delivery vehicles. Just a hunch that they cleared out the online store inventory to swing this!
Right on cue after Elon's presentation, those Plaid deliveries began. All but one customer showed up and that no-show car sat there by itself at the end. Throughout the rest of the event you could sense the sheer jubilation of the new owners there, though, even through the windshields. Interior mood lighting made some of the cars resemble a T-Mobile store, while others were more subdued. YouTubers flocked around mainly non-red, non-white sedans to grab what they could for live feeds and recap videos.
HOLY. MOLY.
Oh, did I forget to mention, there were demo rides? . . .
After the VIP "Group 0," everyone there had no trouble grabbing a ride, eventually. Some got in two or three of them. The process was simple enough, letting solo attendees take the front passenger seat and get going. Staffers were not intent on cramming every car full of passengers like, well, a Southwest flight? Yeah.
My eventual ride was one of these solo passenger specials, and though I thought my phone camera would capture a wider angle, forget it—I flunked that pop quiz, with the framing tilted down from the force of acceleration against my chest, but was still able to capture the bare minimum feeling. Which was mildly uncomfortable. Not like the weightless feeling of roller coaster as much as maybe the horizontal sternum-punch of being shot straight out of a cannon. And the force was not momentary; it throbbed against your body pretty much the whole time the car pulled. That makes sense, given the details they released on the power curve of the motors being consistent all the way up to 200 mph.
I was too busy asking the driver about the Tri Motor Cybertruck to notice anything special about speeding through the test track's curve (other owners mentioned something about Gs; whatever) and then, just like that, it was all over. I exited the car and commended the staffer. This truly stood out as a prime moment in being a Tesla supporter since ~2007, helping coordinate Buffalo's first Tesla event in 2010, and picking up some stock in 2013. The sheer brilliance of engineering in Plaid is a force every other manufacturer will have to reckon with, and I have no concerns about Tesla maintaining a lead indefinitely.
PEAKING
Case in point: the peak portion of the event for me was a surprise. Right after the ride, I had a chance to meet the pair of young engineers responsible for the full revamp of the Plaid dashboard HVAC implementation. Sure, as an OG Model 3 owner, I'm spoiled by the austere design ethic with the solo display in the middle. And the single strip of "vent" slotting across the width of the dash. With the new Model S, though, this duo of brainiacs devised the impossible: a way to direct all driver side air with no apparent vents at all. Instead of a slot, the designer wondered, "What if we make the surface of the display the source of the airflow?"
That's right, THE BINNACLE'S SCREEN BOUNCES ALL THE AIR TO THE DRIVER. This utterly elegant solution was possible thanks to the aerodynamics engineer devising two hidden apertures that achieve a similar Coandă effect to the one used across the dash of Model 3. And let me tell you, it works. The functional dash and console assembly they had on display was pumping out HVAC like there was no tomorrow.
Brilliant. I must have spoken a good fifteen minutes with them, and especially the design engineer, who was also behind the animated airflow that Model 3 pioneered on its MCU. He asked how often I adjust it and if I had any feedback, but I broke the news to him that it is SO effective that I set it and forget it, going on four years of the best HVAC in any vehicle I have ever experienced. We had a bro-ment, as it were, realizing that I was there to connect with them and validate the devotion they put into making this a unique—no, a revolutionary design.
OKIE DOKE
"Ew, what about that darn YOKE?!" . . .
Nope, the yoke was not as objectionable as expected. All the touch switches are capacitive, meaning they should work as capably with gloves as the touchscreen does, and the feeling was fairly natural all the way around. Coupled with the new UI on the 17" display, it seemed fairly easy to adapt to the stalkless design, with or without "autoshift from park." Even if the "PRNDL" may be fixed vertically on the display's left edge, the enhanced customizability of other common functions seems like a real boon to owners who prefer a specific control layout. (And, it remains to be seen if they put a redundant set of gear selection buttons along with the four-ways on the lower edge of the console's inductive phone charging setup.)
Of course, the rear passengers also get their own display, with independent climate, plus other controls and Bluetooth capability. The front seats are now farther forward, and the rear seats are more reclined, producing more legroom. Even headroom has been upped.
BUT WAIT, THERE'S MORE
After experiencing that level of progress in the interior, one would think the evening was pretty much over with, correct?
Okay, ready? I also met the developer responsible for "fart mode," as he called it.
Let me repeat, I MET THE DEVELOPER RESPONSIBLE FOR FART MODE. He was a very cordial young Indian guy.
Plus, I spoke with a UI/UX engineer who fielded my serious concern that one of our members with a year-old Model S could not easily find or pay to extend his connectivity subscription. I explained that I had recently been on the phone for an hour, coaching a bright and accomplished (but vexed) owner through the app and website that each ended up far from intuitive in finding the solution. I said that instead of appearing under Upgrades, or anywhere in the Tesla Store, it was buried in the website under Manage. Too bad Tesla.com happened to be partially down that same day, so I offered a suggestion that they place the renewal option right on the MCU when it's time. Her reply, "That's a really good idea—I will bring it up to my manager." (Try THAT with a legacy automaker.)
FINALE
As the crowd dwindled, I got a chance to chat with some new connections and a few old ones before scoring a complimentary Plaid cap (sorry, Gali) and tagboard poster. Luckily I locked in my ride to the owners' afterparty (basically across the street, buy hey) with none other than two of those YouTube FSD stars, James Locke and Kim Paquette, along with fellow passenger @TeslaMS60. (In Tesla #3, for anyone still keeping score!)
The rough surface parking lot with more or less randomly placed rows of vehicles made for some fun visualizations. Almost like a drive through a shipping container dock area . . . after a tsunami. We all discussed the typical fortes and limitations of the system as-is, hoping that the next release will be as much of a quantum leap as we have heard rumors about.
The afterparty on a high floor of the hotel concentrated even more Tesla community legends into a teeny space, relatively speaking. Believe it or don't, it would be the first decent chance to plug in my almost depleted OnePlus phone . . . even with umpteen million volts of juice going through the air via the Plaid event's Tesla coil, and just as many Tesla vehicles (and portions of vehicles) scattered all around, my 2019 device's USB-A requirement was dead in the water. None of the newer Tesla models have anything but USB-C, and the vintage models on display were locked up tight. No problem; I gained enough in the hotel room to "summon" my second Lyft shortly after that. Ha! "Summon." If only!
Meantime, getting "the call" on the room's landline was inevitable after what seemed like forty conversations going on, strong. That was my cue to get on the road and call it a night. Or was it mid-morning, EDT?
Who knows. It was all a blur, and the flight home a welcome respite from all the frantic but rewarding activity over the past two days.
Wouldn't you know, though, the guy next to me on the first leg home was a veteran, so I thanked him. He asked what my poster was from; I said the Plaid event. He then got on my case about not paying road taxes. I told him I bought the most American car made, and he could too. There were no words exchanged for the rest of the flight.
All in all, the trip turned out to be a wild success. Dare I say . . . Plaidass.
Who's ready for the first Austin event?
 Niagara Frontier Regional Organizer
So scheme. Much fortuitous. Wow.
Complete Google Photos album: 20210610-Tesla Plaid Event, Fremont