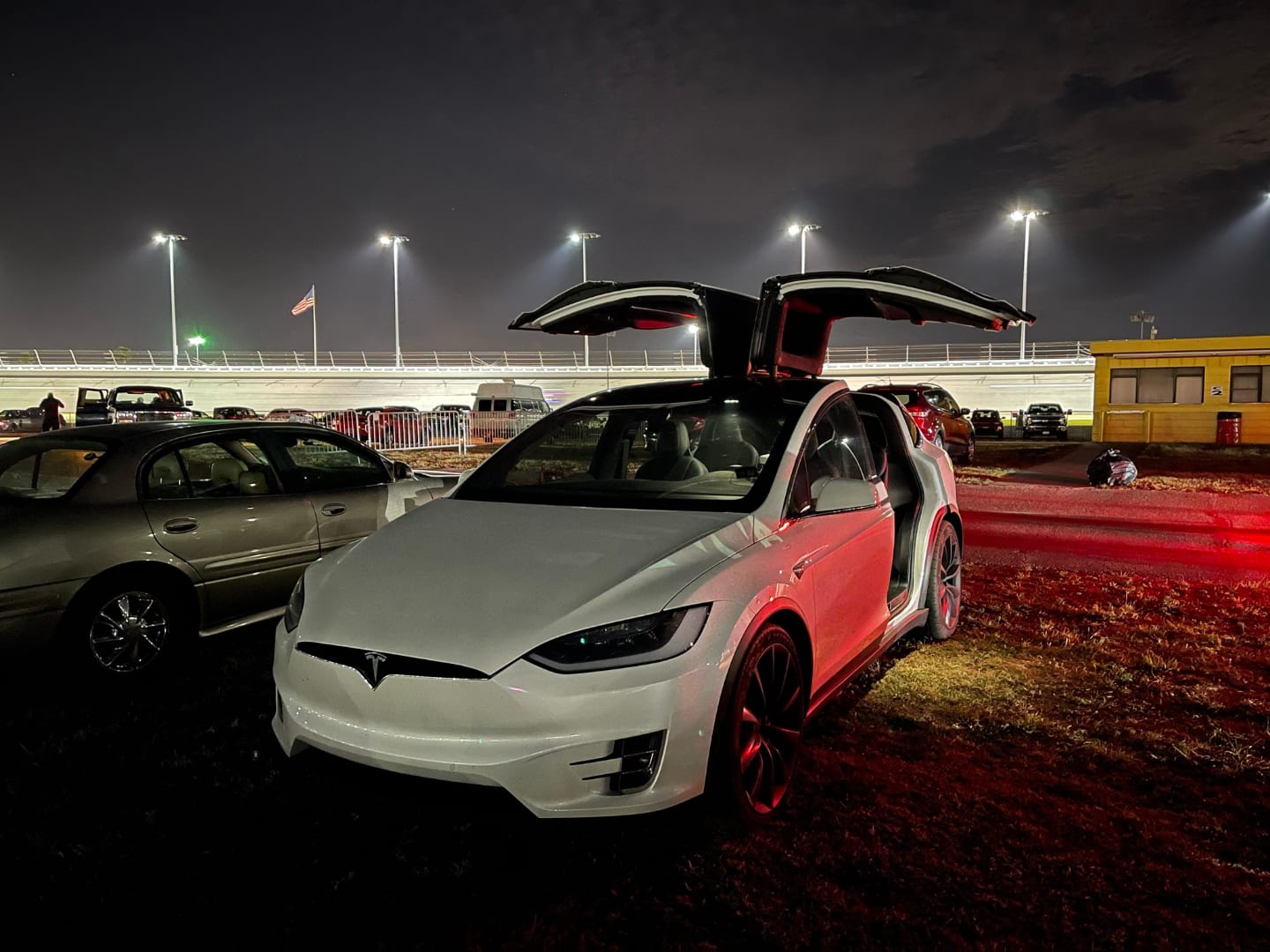 Some Things I Learned On a 700mi Road Trip
Surprisingly, there's often a better way to charge on the road
The racing event was in January 2021: the Rolex 24 at the Daytona International Speedway.
I already had plane tickets to fly down there on Southwest Airlines. But with just a few weeks until the race, I decided that I'd much rather have my Tesla Model X P100D on-site so my friends and I could move around at will, not relying on Uber and Lyft in the thick of event traffic.
And as any Tesla owner will tell you - driving a rental car is a huge step down from what we're used to.
My wife and I have bought our used 2018 Model X in November 2020, directly from Tesla. I'd driven it on a couple of single-stop trips, with just one supercharging session between me and my destination - so this trip from Nashville, Tennessee to Daytona Beach, Florida was going to be a new challenge.
I love challenges - as a commercial/multi-engine/instrument rated pilot, this is the kind of thing I live for. So I decided to cancel my airline tickets and drive the 700 miles in an electric vehicle instead.
I departed just after 5am in the pitch dark with the battery at a 100% charge, full of excitement and with no plan other than to stop and charge when I needed to. I plotted the trip on the Google Maps app on my phone, and it showed that without factoring in any charging stops, the trip would take 10hr 5min.
However, after entering Daytona International Speedway as the destination in my nav, I was greeted with these charging recommendations and started to question myself a bit:
Manchester, TN: 40 min
Atlanta, GA 1 h 10 min
Tifton, GA 1 h 10 min
Jacksonville, FL 40 min
arrive at destination: 16% charge
All of this added up to 3 hours and 40 minutes of charging. This seemed less than ideal to me, so I double-checked the situation using an app for Tesla road tripping called A Better Route Planner. The app showed that I could do the trip with more stops, but less total charge time. This seemed counterintuitive to me, and I remember blinking a bit at the screen in skepticism.
So, after checking that there were several more superchargers available on my route than even this plan called for, I decided that there was enough charging coverage available to roll the dice and go against the recommended 4-stop plan that the vehicle had suggested.
Here are the stops that I ended up taking:
Chattanooga, TN 29 min
Acworth, GA 28 min
Macon, GA 28 min
Tifton, GA 21 min
Valdosta, GA 7 min
Lake City, FL 12 min
Jacksonville, FL - Chaffee Rd 22 min
Arrived at destination with 16%
Total charging time: 2 hr 27 min
This seems like wizardry at first glance. How does charging more often somehow magically make the battery need less time to charge?
It turns out that because of the chemistry of the batteries, they can charge much faster when they're below around 60% or so - especially if they're really low, like 10-20%. I noticed that when I'd plug in to the supercharger with a really low battery, the charge rate shown on the screen was often 400 miles per hour or better. However, by the time the battery had charged up to halfway, the rate dropped off significantly.
Therefore, as long as there was a supercharger along my route that I could reach with less than 60% charge or so, I would be able to spend a lot less time parked and charging.
So, while charging, I would call up my route with the navigation, allowing it to make its recommendations about charging stops - but then I would have the map show all of the available chargers along the route. If there was one closer than the recommended next stop (and often there was), I would select that closer charger as the destination instead.
By doing this, I could then see how much I had to charge at my current stop to be able to reach the manually selected next charging stop. Once the estimated charge upon arrival reached 5%, I would unplug and head back onto the highway.
One thing I noticed (and you should probably confirm it's happening on your trip before relying on it) was that even though the estimated charge at the next stop was 5% when I first started out, as I drove, that number would slowly go up. At one point, I arrived at the next stop with over 20% remaining - even though it had at first estimated just 5%.
My conclusion from this trip was that EVs are great for road trips, and the additional 2 hours and 27 minutes of charging was not very far off of driving a traditional internal combustion engine vehicle. I would still have had to stop at fuel pumps once or twice, as well as meal and bathroom breaks. The additional time was well worth having the Autopilot. The amount of fatigue saved by not having to constantly drive the vehicle was incredible - in fact, I was still excited and full of energy by the time I arrived. The 7 stops and Autopilot made such an immense difference, and I felt significantly better than after the shorter trip from Nashville to Chicago I have made many times in a gas car to see family.
The drive home was just as easy as the drive down. It was so awesome to have a high-performance EV and on-field parking at an internationally-awesome event like the Rolex 24. The Model X got a lot of positive attention, and just for the EV-evangelism alone, I was glad I didn't fly.
I made a video about the experience as well - check that out for further details.
Some things to make note of before you replicate this trip:
-The Model X P100D is, as far as I know, the least energy-efficient Tesla right now. You will probably do even better in a 3 or a Y.
-Not all areas of the world will have enough fast charging stops for this method to work. There are some trips where you will just have to charge up to 80%+ on some legs of the trip, so before you leave your supercharger stall with only 50% charge, make sure you've already got your next charging stop entered into your navigation.
-If you arrive at your destination, park without charging, and go to dinner, by the time you get back to your vehicle it will have less available charge. This is because the battery will start to cool down now that it's not being charged/discharged - so be sure you have at least 10% more than you need to get to the local supercharger or your destination charger if you park and go eat or hang out before getting to a charger.
Happy road tripping!
Thanks for this info. I do a similar drive but Franklin to Orlando. Have done this round trip about 8 times now and experimented a lot over time. Best charging I have gotten in nice EV weather in June is total of 1 hour 18 minutes. Acworth, Macon, and Live Oak. Comparison to January EV weather adds Manchester as a stop and runs 1 hour 55 minutes as best time in winter conditions. 2018 Model 3 Dual Moto with sport wheels.