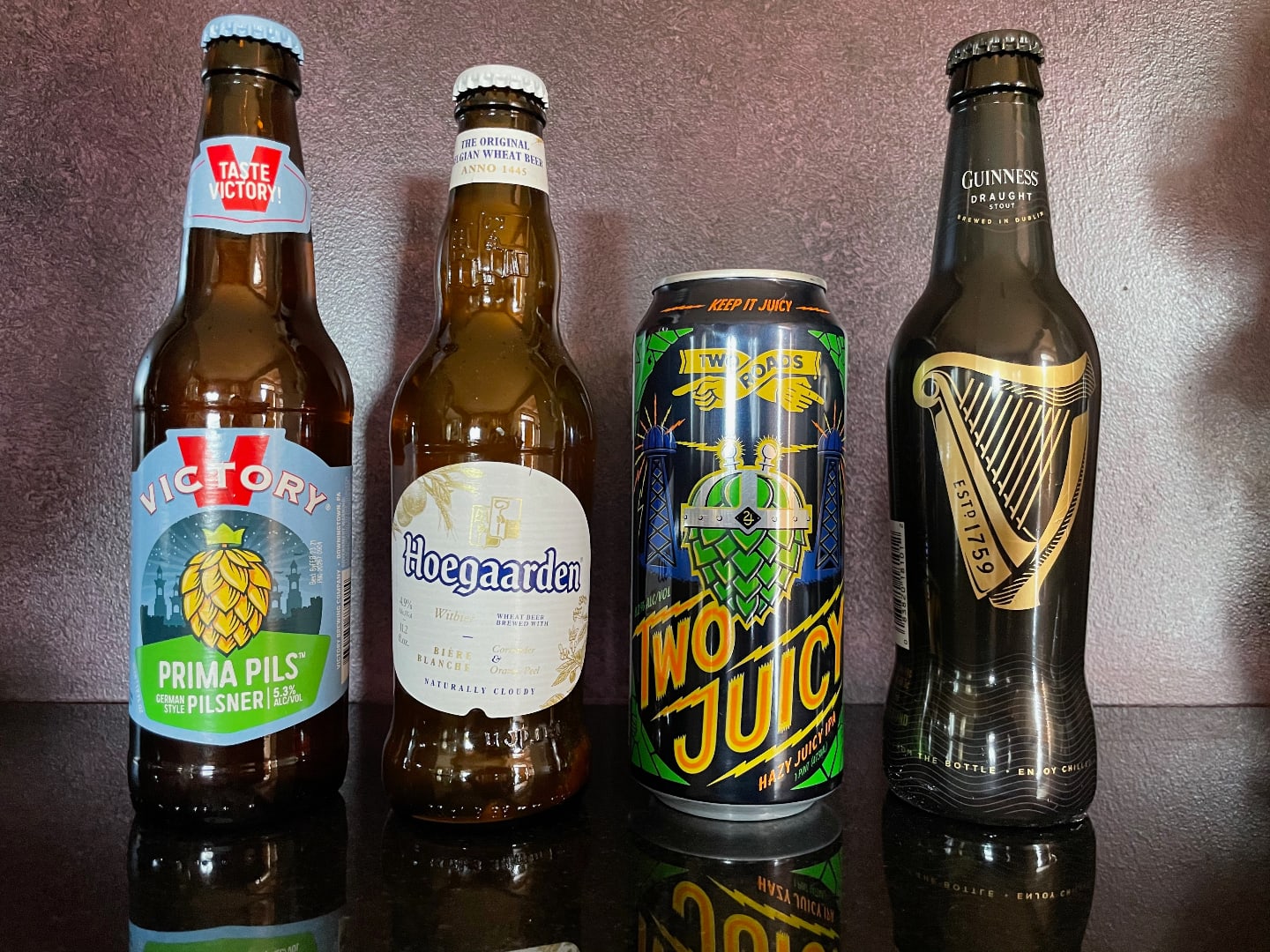 Drinking and Zooming
A virtual beer tasting EVent
Our February social event, "For the Love of Beer," featured Alex Crowe for a virtual beer tasting event featuring four readily available beers to the Delaware Valley. Alex is a beer judge, lecturer, event host, and a Certified Cicerone™ (the beer version of a sommelier). Fifteen DVTOC members gathered via Zoom to sample the beers which ranged from a light colored white ale to a dark stout, and to learn a little bit of beer history and ingredient education. Throughout the evening Alex gave members fun tidbits such as lager yeast does not import any flavors into the beer, whereas ales are made with flavorful yeast. He also said Monks fermented their beers in caves and that lager yeast adapted to the cold weather this way. Members gave a donation of $10 or more for participation and DVTOC donated the funds to the non-profit Foundation for Renewable Energy and Environment. A total of $400 was raised for the organization's efforts to help accelerate the world's transition to renewable energy. 
After introductions, members learned that when tasting beers it's best to go from less intense flavors, or beers without hops, to more intense beers. Following that sequence, the first beer in the flight, Hoegaarden Wit, is a light-colored Belgian wheat beer. Alex highlighted the color of the beer while holding it up to the light in his kitchen. He then asked members to smell the beer, and then focus on the coriander and orange flavors for the first sip. 
The next beer, Two Roads Two Juicy Double IPA is from Two Roads Brewery in Stratford, CT. This hazy beer has a flavor profile that comes from its juicy and citrus tropical flavors from multiple hops. Members noted this one was not as bitter and had a muted flavor. 
The third beer featured a local favorite from Victory Brewing in Downingtown, PA, the golden-colored Victory Prima Pils. Alex said this beer has a clean hop flavor that's not overly bitter, and drinkers can experience a cracker/bread taste too. For a possible food pairing, this beer works well with sour foods.
The fourth beer actually is brewed in Dublin, Ireland even though a local Guinness Brewery is in Maryland (perhaps a future DVTOC road trip?). Unlike the other beers in the flight, the Guinness Stout is a malt-forward stout that gets its dark color from roasted barley. Alex described the notes of bitter coffee/chocolate flavor as members sipped in unison. Fun fact time! Guinness uses nitrogen gas when pouring which creates a fine bubble. To mimic a pub pour, Guinness created a widget inside the can to hold a bit of nitrogen that gets released when opened.  
Next, Alex gave a bit of stout history and storytelling while tasting the Guinness Stout. 
For a long time brewers aimed to make clear beer. Eventually as the European public started its drinking fascination with coffee, brewers shifted their focus to emulate the dark color and flavor of coffee and that's when stouts were born. However, it's preferable to get your caffeine from coffee before work and before driving, rather than beer.
As a final fun tidbit, Alex said to really enjoy a good beer, don't store the glasses in the freezer. You want the foam to help carry the aroma and colder beer doesn't foam as much. Instead, chill the glasses in the fridge to get them cool, not iced. If you visit the two local breweries, remember never drink and drive even if your car can drive itself. 
Alex Crowe was the former brewmaster for the Sackets Harbor Brewing Co in N.Y. and he holds a degree in Brewing Technology Siebel Institute of Brewing Studies. He teaches beer related coursework at the Restaurant School at Walnut Hill College as well as hosting the popular Beer vs Wine Challenge Dinners at the college. In between beer gigs he develops cell based models of neurodegenerative diseases at the Alzheimer's Drug Discovery group at the Center for Neurodegenerative Disease Research at the University of Pennsylvania where club president, Vivianna Van Deerlin, also runs a research laboratory.
Join the club to attend future events!