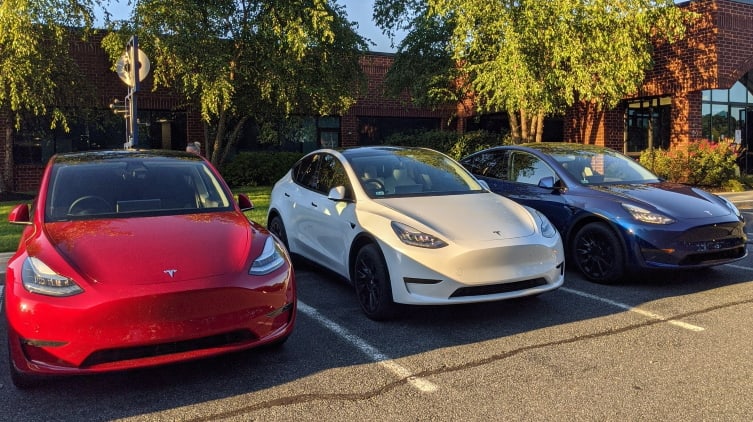 Member Spotlight: Konstantin Mayarovich, PA Chapter Leader and Board Member
Get to know our Club's active members
Hi there!
I'm Konstantin, and I'm a bit of a Tesla fanatic. I don't remember exactly when I first heard of Tesla and its electric cars (much less Tesla's other ventures), but I do remember exactly when I fell in love with them! It was a Saturday morning on May 28th, 2016. A buddy of mine and I were bored and decided to go test drive a Tesla at King of Prussia Mall. Knowing full well that Tesla EVs are pretty pricey, I had zero plans to actually buy one – I just wanted to check it out, see what all the chatter was about, and have some fun driving for 10 minutes.
And fun I had! Of course, the salesperson put me into a Model S P90D and off we went. That instant torque and its quiet operation just blew me away. I couldn't stop talking about it with my friend the whole ride home. I came home and immediately started configuring the Model S in the design studio on the Tesla website. Alas, once I priced out that Model S P90D that I test drove, I hung my head in disappointment and closed the website. No way was I going to buy a car with a six-figure price tag.
Over a month went by and I couldn't stop thinking about that awesome Model S I test drove. I kept obsessing over it – I have that type of personality where if I really want something, I won't stop thinking about it until I get it. Eventually I decided, "Ok, let's come back down to Earth and price out a base Model S." The sale price was basically cut in half from what that P90D cost at the time. It still wasn't cheap, but it was reasonable for me. So in July of 2016 I pulled the trigger and ordered a blue Model S 60 with panoramic glass roof. I took delivery in early September of 2016 and have been a loyal fan/fanatic ever since. Three months later we pre-ordered a Model 3 for my wife. :)
I joined the Delaware Valley Tesla Owners Club in December of 2019 by invitation from Ryan, whom I met earlier at a (not Tesla-specific) EV meetup event. From car shows to sunset cruises, this club offers a lot of fun activities to its members. In addition to having fun, the club makes important contributions to its community. The First Responder Crash Course organized by volunteers of the club have proven to be invaluable – providing local first responders with presentations, documentation, and first-hand introductions to Tesla vehicles of all models.
In all my years of driving a Tesla, I've enjoyed quite a few road trips. The longest trip I've taken so far with a Tesla is from Bucks County, PA to central Maine (30 miles from the Canadian border). I made three or four stops at superchargers to feed myself and the car, and slept in my Model S on an inflatable full-size mattress for three nights while camping. Nights in Maine can get very chilly in September and I loved the ability to sleep with the heat on in the car. It was glorious! Range anxiety? Nah, that was gone after one week of ownership.
I always enjoy a good conversation on all things Tesla and, as the leader of the Delaware Valley – PA chapter of the club, look forward to meeting (and converting) more Tesla fans. Got any questions? Curious about the different Tesla models? Feel free to drop me a line in the comment section.
Cheers,
Konstantin