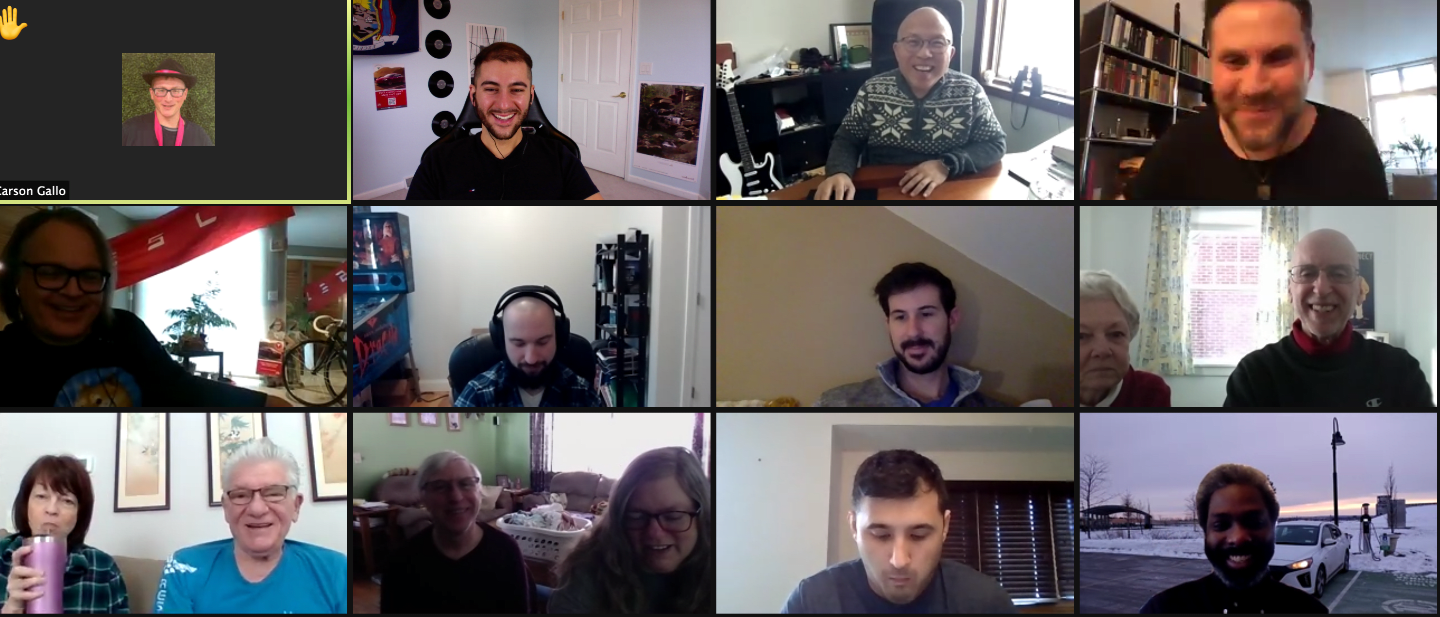 A Buffalo Meetup Goes Global
This past Saturday's monthly meetup of the Niagara Frontier section was typically virtual, via Zoom, seeing that we are still in the middle of COVID season (as it were).
That said, it was virtually a home run again, following up on last month's surprise appearance by Tesla Joy and bonus guest Rafael "TesLatino" Santoni. This time around, both coasts of the USA weren't enough and we went all the way to sunny Baden, Switzerland for the twenty members and guests attending the call.
Our friend Ralf Schwesinger from MR & MRS T ON TOUR was kind to join us for an hour of prime conversation. The focus was on the epic journeys he and Mrs. T took around the globe not long ago . . . solely in Tesla vehicles (nine of 'em, for those counting).
All of us on Zoom were downright fortunate to hear a first-hand account of their tour—nearly two years' worth of work that ended up supplanting their former day jobs, becoming a full-time effort. Whether it was within Australia, New Zealand, Europe or The States, Ralf guided us along via a sleek slideshow presentation with epic photography galore.
Sometimes their stay involved top-notch hotel accommodations, others more on the modest side. Yet the hosts of those properties were plenty cordial and down-to-Earth. It seems that the organization put into the trips paid off, since they never wound up needing to take up overnight accommodations inside the car. In response to one question by TOCNYS President Patrick Ho, Ralf outlined the process of not planning more than two weeks in advance. Always effectively, though.
One of the revelations we had involved hearing that ALL of the travel was completed by Tesla-branded EVSE. Translation: Supercharging and Destination Charge Stations. If that isn't a shining endorsement of the brand, what is?
Another highlight involved their chance to meet Tesla Chief Designer Franz von Holzhausen at the Hawthorne, California Cybertruck reveal in 2019. Did Ralf reserve one? Of course.
Sure, getting to learn about this round-the-globe spree was great, but merely an appetizer. The full account appears in the hardcover book that Ralf recently completed and has put up for sale in Europe or the USA. Titled "#recharge The Ultimate EV Travel Guide for Europe," it lives up to its name and makes a handsome coffee table addition. Yours Truly had his copy in hand for the audience, including a nifty final chapter on charging.
Image courtesy of MR & MRS T ON TOUR
What's next for this pioneering globetrotter? We hope that the best practices in reservations and charging that they refined during the trip become de facto standards at lodging destinations around the world. If Ralf has any say, Tesla itself will start to incorporate these insights into their product line, allowing anyone with a Tesla to reap the benefits of plugging in wherever they choose to travel.
A round of thanks to Ralf for his support of TOCNYS and giving our members some world-class diversion from the lockdown still going on these days.
Stay tuned for info on the March 13 monthly meetup as well as the rest of the 2021 season of Niagara Frontier events.
-John P. Weiksnar
 Niagara Frontier Regional Organizer
By the way, though the T in MR & MRS T ON TOUR stands for Tesla, I think he needs to adopt a certain catchphrase: "I PITY THE FUEL!" ;-)